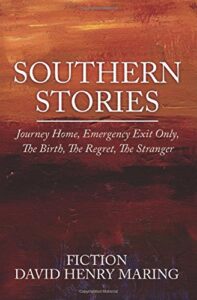 South Carolina Lawyer Magazine Literary Spotlight:
"In Southern Stories, retired circuit judge, David Maring combines his southern roots with his judicial experience to weave several short stories to appeal to those who enjoy reading about humanity grounded in the culture of the South."
Reviewed by Anita Lock, U.S. Reviews:
"Sounds like there's hard feeling between y'all… that would be an understatement."
Southern Stories is a collection of five short stories set primarily but not exclusively in South Carolina. Maring's tales focus on an assortment of human-interest themes that center on love, family, and friendship; animosity and adversity connected with marital infidelity; and various battles/wars in the United States.
Retired circuit judge turned author of "spellbinding, can't-put-down suspense/thriller novels" has produced a delightful anthology distinct from any of his previous works. Unlike his mix of historically southern, biblical-theme, and/or war-based novels, Maring shifts gears and zeroes in on seemingly random third-person narratives about everyday common folk. Yet all are caught in the crossfire of one thing or another. Among Maring's five stories, the longest is "Journey Home," which speaks of James Simmons and his sidesplitting adventures traveling from Montana to South Carolina with Seth Kimble, a corpse. Nothing more needs to be said, except to say that it is a story filled with so many unexpected situations that one has to read it to believe it. Aside of his two principal characters, Maring includes small clusters of a supporting characters set within subplots. Frequently alternating between the principal cast and subplots, the author does a stellar job of keeping the narrative fluid while building up to its final conclusion.
"Emergency Exit Only" is a bit of a twisted tale of selfishness within a court case that goes awry. That said, it closes with comments that will leave readers shaking their heads in disgust. "The Birth" is just that. What begins as an immensely blissful moment in the life of a couple expecting their firstborn, rolls into undesirable situations. While Maring's first three stories have a modern feel to them, he veers away from the twentieth century into a time that pre-dates the Civil War (The Battle of the Alamo) in "The Regret." Vacillating between Texan war scenes and the Louisiana Bayou, Maring focuses on a malaria-stricken American soldier who is caught between hallucinations and reality.
Maring brings his collection to a close by returning to South Carolina, but this time during the Civil War. "The Stranger" features a wounded Confederate soldier who serves under Joseph E. Johnson and seeks shelter as well as medical care at the home of a single woman. What sets this particular tale apart from the others is that Maring relays a realistic scene that would not have been considered unfamiliar for that time period when families and marriages were torn apart because of war.
Certainly Maring's literary reputation precedes him, especially his writing style, which aptly captures all the nuances of the southern dialect. While his books have grabbed the attention of that quadrant of the U.S., readers will be highly remiss if they earmark his work as principally appealing to a specific locale, particularly with Southern Stories, his sixth installation. Maring's incorporation of human elements that deal with the trials and tribulations of life and U.S. history speaks volumes and reaches a far wider margin of readers than a mere sector on the globe. A mix of comedy and all things thought provoking, Southern Stories is an absolutely intriguing read!
RECOMMENDED by the USR